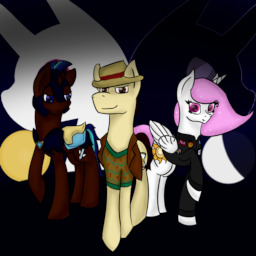 A Doctor Whooves tale starring the Seventh Doctor.
The Doctor goes to Whinnychester Castle to pay a visit to his former companion, the Alicorn Celestia of Equestria. What starts as a social call becomes something else when the Doctor learns Celestia's sister has been working herself to exhaustion investigating something that has been attacking ponies in their dreams.
But even that is simply a prelude to something far more sinister. Something that will require the Doctor, Celestia, and the captain of Princess Luna's Night Guard to travel through the dreams and memories of the Princess of the Night. On their quest, the trio will uncover the origins of great darkness and maybe, just maybe, avert the calamity of Nightmare Moon.
Cover Art by DiscordedWhovian
Proofreading courtesy of Unimpressive Vagaries
Thanks to both of you guys.
Chapters (8)