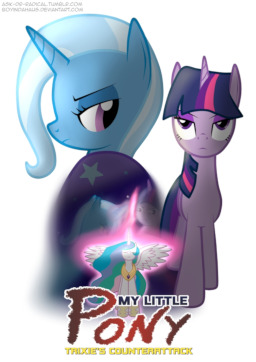 Source
After Trixie's second humiliation at the hooves of Twilight Sparkle, she once more went into self-imposed exile. Given her enslavement of Ponyville, Celestia has reservations about letting the charlatan unicorn go, but Twilight assures her mentor that Trixie has learned her lesson in the power of friendship.
Twilight is wrong. When Trixie returns, it will not be about how magic should be used or about amulets. It's about having nothing to lose and survival, and only one of the unicorns--Twilight or Trixie--is walking away from this one.
Cover art courtesy Boyindahaus at DeviantArt. Check his stuff out!
Chapters (8)