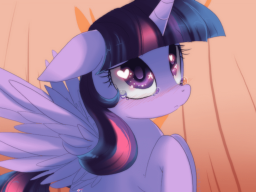 Twilight has trouble coping with her new lifestyle. Sure, her friends are there for her, but there is only so much friends can do. In the midst of self-doubt, tragedy strikes her life. With her life crashing down around her, she does something desperate, only to be met with challenges and a few surprises along the way.
This is in the style of a diary Twi writes.
If you fav, please upvote.
Also, I couldn't find the artist of the picture I found but whoever you are, please stand up. Credit is due where it is due.
Chapters (10)