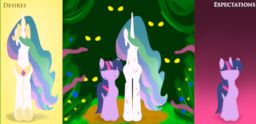 "The mischievous Princess of the Night had nothing to worry about. Her plan was already in motion.
She definitely had nothing to worry about.
Definitely.
It was harmless.
No love potions, no magical artifacts. All that she did was convincing 'Tia to invite Twilight to a study session and take a free week while Luna herself took care of court so they could get time for themselves! Then everything will flow on its own! She even had Passion's approval, and the Princess of Love, Mi Amore Cadenza herself originally had the idea!
So why did she have this terrible feeling that something was going to go horribly wrong again?"
---
Yep, this is a "TwiLestia". There are some characters from my other fics (one that I temporally unpublished), but the sidestory mainly is of "Spark: Book One". It's not very necessary to have read this fic, but if you did it will help me and would clear up some questions that may come up for some OCs (which aren't that many).
OCs so far: Golden Passion and Silver Quill (has a brief appearance).
Cover art and any illustration here were and will be drawn by me.
Rated Teen just in case.
Chapters (8)