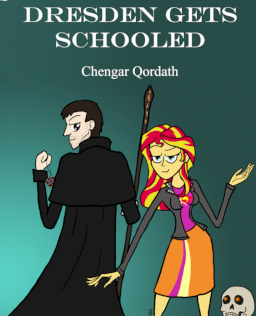 Source
This story is a sequel to My Little Denarians
---
A year has passed since Harry Dresden, wizard-for-hire and Winter Knight, rescued Equestria and the Elements of Harmony from the clutch of the Denarians. Why wouldn't he jump at the chance to return to Equestria to visit his (very) colorful friends in a totally peaceful and uneventful vacation?
Because he's Harry Dresden, and life rarely lets things go so smoothly for him, when it's not killing him to death. And when things go wrong this time, Harry finds himself in a realm far, far more terrifying than Arctis Tor, Discord's realm, or the Outside:
High school.
Follow-up to "My Little Denarians."
Chapters (1)