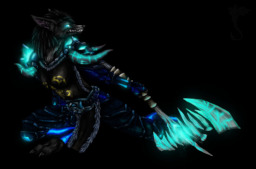 Source
I've often found that its the little choices we make in life that have the biggest impact. Should I chance this week old sandwich or not? Is crossing the street now a good idea? If someone asks if you'd like to visit Equestria do you immediately say yes? Well in order, here's the consequences of yes... Stomach ache from hell, nearly being flattened by a semi and some newly brown pants, and waking up in a field in a body not your own and the strangest feeling of being dead.
This story is set within the wonderful setting of the Chess Game of the God's, and isn't to be seen in any way as cannon.
The image is not mine, but it fits quite well with the main character, so thanks to the artist whoever they are. Hope you don't mind me using it.
Chapters (16)