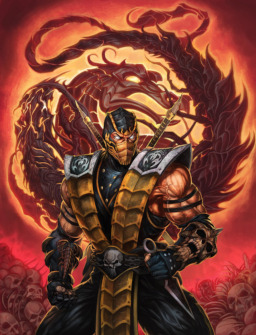 Scorpion, otherwise known as the Specter of the Netherrealm, has faced many challenges. But, will he be ready for his latest quest? Scorpion is sent by his master, Quan Chi, to retrieve the soul of Princess Celestia in the newly discovered realm known as Equis. Upon arrival, Scorpion makes the acquaintance of six of Equis' citizens. These six ponies at first only see a demon, but over time, they come to realize the truth behind Scorpion. Will they be able to make him realize just how much he's needed a friend, or will Scorpion simply brush them off to complete his task? This is the tale of Scorpion, the Specter of the Netherrealm.
This is my first crossover fic, and I'm doing this based roughly off of my knowledge of Mortal Kombat, which is limited, and more specifically, my knowledge of Scorpion himself. Expect some violent scenes, filled with gore and powerful combos. I may refer to some combos by their names as given to them by Mortal Kombat 9. I will be including Fatalities and X-Ray moves. I hope you enjoy the story, and more specifically, the violence.
I take no credit for the cover art, which I must say looks extremely badass.
Chapters (20)