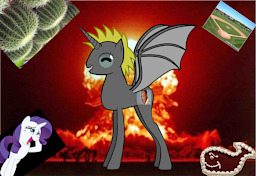 This is dedicated to all the cuties out their.
Markus Rhodes was just your average everyday Brownie till one day he was eaten by something. now as the Alicorn/Zebra/changeling/Greek god/noodle conveniently named Markus rode he must save Horeseplace from all kinds of dastardly villains like Albert. These are quick excerpts from his adventureseses .
DISCLAIMER: Reading this story is the equivalent to cuddling with the engine of a speed boat.
Chapters (4)