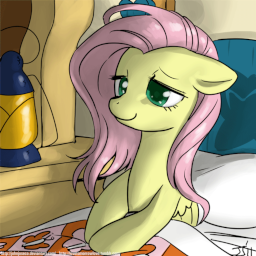 Source
One morning, you find yourself with a horrible headache. As you look over to the woman next to you, expecting it to be someone you've never met before, as was what you're used to, you realize that this is someone you'd never expect. Who do you find?
2nd person humanized. There'll be no love triangles, cheating, or anything like that. That stuff is unnecessary and uncomfortable. Just a simple relationship that happened to have started in an... odd way. Picture by the very talented John Joseco.
Sorry for anyone who read this description before I changed it and gave it all away. I thought it was obvious and that it was entertaining seeing how it all panned out.
Sorry!
P.S. In the story, __ means a character is saying your name. It's a little trick I picked up from a friend.
If you favorite, please leave a comment!
EDIT: Changed the rating to teen. I figured a sex scene would kinda kill the mood the story's going in. So, if anyone favorite this for that, sorry!
Chapters (2)