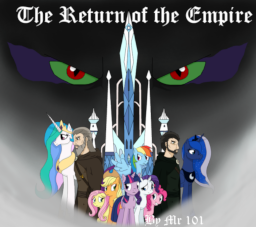 Sequel to 'Revelations of the Past' and 'Lost', highly recommended that you read them both first.
Two years after Fluttershy was lost in the Everfree forest and was rescued by the human mage Grendel Emeric, and after Twilight Sparkle discovered that Equestria had been saved from the wrath the Dark God of Magic, J'skaar, by another human mage called Turil Tailclaw, something begins to stir in the old ruins of the Mountain Kingdom.
Whispers of an old enemy…
One who was feared by all…
An enemy…who was assisted by a Dark God…
When a patrol on the border of Equestria in the north where the Crystal Empire's capital once stood disappears in a sudden snowstorm without a trace, Princess Celestia becomes concerned that a Dark Evil that was vanquished long ago might be returning. After a second squad disappears, she and Luna come to the conclusion that the spell Varlos, the God of Magic, placed over their world a thousand years ago to protect them, has been broken. And immediately rush to inform Twilight and the other Element wielders.
For the Capital of the Empire has returned…and with it…so have King Sombra and Malaskaar…
Princess Celestia and Luna must summon two allies to help them defeat this evil once and for all; it's time for Grendel Emeric and Turil Tailclaw to return to Equestria…
…And finish what began over a thousand years ago.
[Cover art done by me.]
Chapters (4)