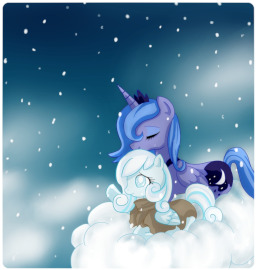 Source
This fanfic is a tribute to Silly Filly Studios' fan work Snowdrop.
Original author: Sung (Read the Foreword chapter for details)
Cover art is courtesy of Haruliina
Translation Proofreading by Zackfig
Date of First Publication: Jun 24, 2013
Completion of Translation: Aug 16, 2014
==PLOT SUMMARY==
After Snowdrop had created the first winter snowflake, other pegasi learned to carve on the snow as well. With their vision as an advantage, they were able to create much more beautiful carvings on their snowflakes. Snowdrop was very frustrated at this, because she couldn't improve her own work with blind eyes.
One day by chance, she had a small talk with Princess Luna, and told her that she had always wanted to wish upon the stars that she could see the world. Luna, who cared so much about her little friend, promised that she would do whatever she could to realize Snowdrop's wish.
Surely, she couldn't cure her blindness. But being the Princess of the Night, she had her own way to open that little filly's eyes to a wide and colorful world, even though she wasn't fully prepared for such arcane magic that manipulates the dreamscape.
Nopony could have foreseen what that promise would eventually cause...
Chapters (15)