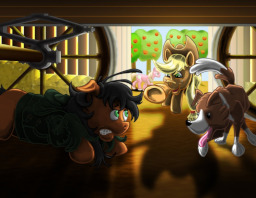 Source
A starving colt is found hiding in Applejacks barn, he refuses to speak too much about where he comes from, claiming that he would be branded crazy and locked away.
Applejack doesn't know if that would happen,
But he does seem to know more about her and her friends than he should
xxxxxxxxxxxxxxxxxxxxxxxxxxxxxxxxxxxxxxxx
Okay first fiction on this site, more of a way to develop my skills before I launch into some big ideas I have so constructive criticism is appreciated as my descriptions probably suck right now
This is inspired by Oh to be Old Again by Minalkra (which you should totally check out as well)
Enjoy!
EDIT: Now with cover art by the ever talented mix-up! It is just awesome! Check out his pages here and on Deviantart!
Chapters (36)