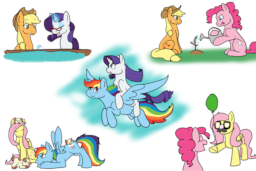 Source
Warning! Season 3/IDW spoilers!
After her Coronation, Twilight returns home with her friends and a celebration in her honor. With the reformed Discord joining the festivities, everyone is having a blast...except for Twilight herself. Why is Equestria's newest Alicorn unable to enjoy her own party?
This can be considered in the same continuity as "Why?"
My Little Pony belongs to Hasbro!
Big thanks to Its From People on Deviantart for beta reading!
And thanks to Moonstruck-Badger on Deviantart for the cover image!
Chapters (1)