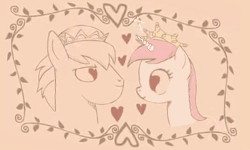 After Hearts and Hooves Day, Twilight goes to Canterlot to make a confession to her one special pony. However, when she does, Twilight discovers that Princess Celestia has long been under the effects of a love curse.
Can Twilight Sparkle break the curse and save Princess Celestia's heart, or will she accidentally burn down Canterlot in the process?
A Twilestia story.
On hold until further notice.
Chapters (2)