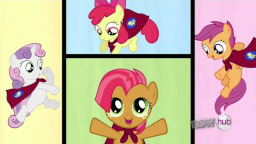 Source
There is a legend the buffalo tell of a mystical clan of dragons that practice magic far out in the desert. These Dragon Magi, as they're called, are said to be very wise, and they are willing to help anyone in need of guidance. No one has actually seen these dragons, but the story makes for an interesting bit of folklore.
To a group of young ponies, however, it's more than just folklore. It's the answer to their biggest problem.
While staying with Braeburn in the frontier town of Appleloosa, the Cutie Mark Crusaders become privy to this tale thanks to a chance encounter with Chief Thunderhooves. Seeing this as a new opportunity to (hopefully) get their Cutie Marks, they pack up their wagon and go riding off into the desert in search of the Dragon Magi. Unfortunately, they forgot to tell Braeburn. Oops!
Wild with panic, Braeburn ropes Little Strongheart into his quest to rescue the fillies. However, chasing a pegasus-propelled wagon on hoof is usually ill-advised. Luckily, a pair of salesponies who just rolled into town are willing to offer a mode of transport for a, modest fee. But much like the Crusaders, these salesponies have no idea what they're getting into. For the desert is a dangerous place, and it's not just due to the threat of sunstroke (although that doesn't help).
Saddle up, y'all. It's gonna be a wild ride for all involved.
Part I of the Ballad of Needles.
Chapters (20)