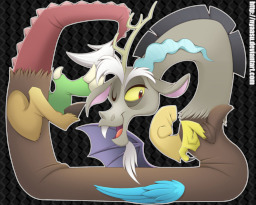 Source
This was a fun little collaboration done with the likes of bookplayer, sparkfyre, Future, xjuggernaughtx, KrazyTheFox and KitsuneRisu. Each author has written their own portion to this story, and their name will appear in the chapter that they have written.
Here's the catch: this fiction works in the same way that a game of telephone works. bookplayer started off our fic. She then gave her portion to me, and only me. Then, I wrote my section, and I handed off my section, and only my section, to sparkfyre. This worked itself all the way down to KitsuneRisu. So, each author was only able to see the section written by the author before them, not the entire story, much like the game you might have played in your childhood.
Cover art unrelated. Well, kind of.
Enjoy.
Chapters (7)