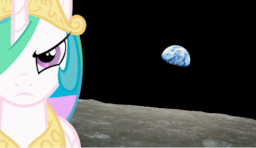 Princess Celestia wanders the lunar landscape, alone, trapped by an unknown magic. She follows a set of hoofprints that are not her own, which lead her towards the dark side of the moon.
What she discovers there may be more than she can handle.
A 30-Day Challenge story, with a new chapter guaranteed once a day, every day, for a full month. Inspired, in part, by Austraeoh.
Chapters (32)