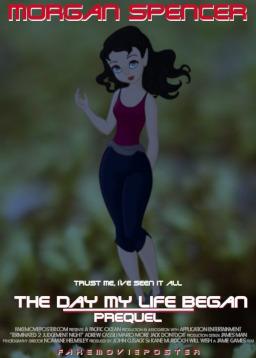 This story is a sequel to The Day My Life Ended
---
My name is Morgan Spencer. I have a... I've done this before? You know about the whole me being a reincarnated Traveler and the events that follow? That's just great. Well, now what do I do with my day? I guess I could tell you about the first time I jumped inside MLP:FIM up to where I started last time. Yeah, that sounds good. Yeah, let's do that.
I am Morgan Spencer. This is the tale of how I discovered the magic of Friendship. Or how badly I screwed up the Show.
Watch as I bring Darcy to MLP as Kill Joy, how I deal with a God of Chaos, what I do during the invasion, and what caused the question some people are thinking.
Why was I human in Equestria in the first place?
---
I made the pic myself on FakeMoviePoster.com and the girl was a digitally created doll 'cause I can't draw. Pretty good otherwise huh?
Chapters (45)