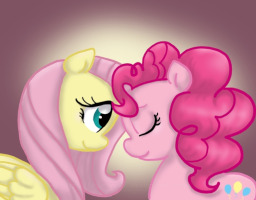 Source
A four chapter tragic romance told mostly from the perspective of Fluttershy with occasional cuts to Pinkie's perspective.
Fluttershy is dealing with some conflicting emotions, but her day brightens when Ponyville's premiere pretty pink party pony pays her a playful visit.
Catastrophe strikes before Fluttershy has a chance to reconcile her feelings, however. Will the shy Pegasus be able to juggle her feelings and this new crisis? Or will she be forced to choose between her friend, and her own happiness?
(Guest appearances by Mrs. Cake, Nurse Redheart, a rooster, and 2 story based OC health care ponies Nurse Cura and Pharm Party.)
Cover art by http://feujenny07.deviantart.com/
Chapters (5)