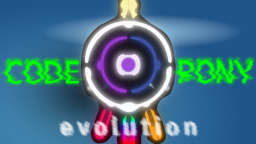 The Supercalculator has many quirks. It can affect the real world in many a strange way, can be fine for 10 years then lose 2 sectors in two. But contacting another "real" world is beyond its power. Right?
---
This is a Code: Lyoko Evolution crossover.
In MLP:FiM canon, this is after season three.
In Code: Lyoko Evolution canon, this is after The Trap (evolution episode)
Help with the TVTropes page!
Admittedly, this is not the same way I would start the story, but it feels more accurate to both shows and the characters. Which means that this is twenty times better than what I would come up with.
This is fucking awesome, and I (IM)patiently await more.
-Gylden Glør
Why you should read it: This fiction takes the funny attributes of MLP:FiM and amps them Up to Eleven and hangs lampshades on them as well. Everything from Pinkie Pie's ability to break the fourth wall to Applejack's Casual Danger Dialogue follows that formula, but even with that it still retains an air of seriousness, a sort of comic seriousness characteristic to Code Lyoko.
Notes: Like with Star Trek: Equestrian Assimilation it's got its share of flaws, but the French is extremely good and overall it's a very good story.
---
not related to Code Pony by bucknorris
I do not own Code: Lyoko, Code: Lyoko: Evolution or My Little Pony.
Code: Lyoko and Code: Lyoko: Evolution are copyright Moonscoop. My Little Pony is copyright Hasbro.
Neither of them endorse this fan work.
Chapters (4)