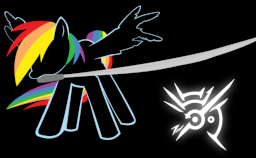 Source
Some questions cannot be answered, and sometimes revenge is the only solution.
The Equestrian Royal Guard is hunting her. They search every nook and cranny for her, and she has no idea why. All she knows is that the order came from high up. Not the princesses, but somepony with power.
Enough power that the princesses don't even know that it's happening.
Rainbow Dash is going to find out whoever gave this order.
And she's going to make them pay.
Chapters (2)