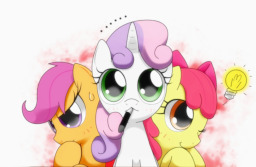 Clop. Erotic fiction that is read by many adult ponies all over Equestria. They entertain, excite, and ease tensions...in more ways then one. So when the Cutie Mark Crusaders hear that they could potentially get an audience if they wrote some too, they try there hands at it. And why shouldn't they? They have the drive, the imagination, and the paper and pencil for it...
...But do they have the concept?
Follow the misadventures of Apple Bloom, Sweetie Belle, and Scootaloo as they try to write clop that will be taken seriously and give them their cutie marks. Will they succeed? Probably not, but it's cute that they're trying.
Don't let the title of the chapters mislead you. These kids don't know what they're writing about.
Chapters (2)