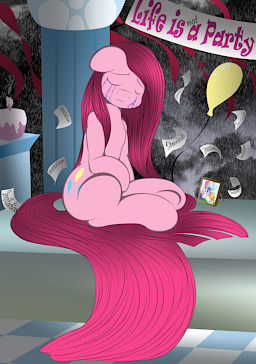 Source
Pinkie Pie is alone in a place she does not want to be. She wants to go home. She wants everything to return to normal. Pinkie Pie has to deal with the reality of a tragedy she does not want to face. Her friends, and the staff of the Psychiatric Ward of Ponyville hospital do their best to support her through this time.
Written well before Season 4 started, so expect some incongruities.
Cover art by V-D-K, used with permission.
Edit: Rewritten for hopefully an easier reading experience.
Also, if you are going to write in the comments, please use the [spoiler][/spoiler] tag. Last time pretty much everyone was giving away the ending in the comments.
Chapters (7)