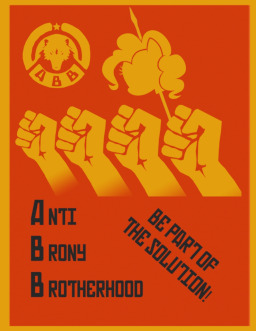 My name is Jack Smith Johnson, and I am the last of my kind.
For years, I have hidden in the shadows of society as my kind dwindled; captured by force or simply lured by the promise of hot food, warm beds, and a life free from being hunted. As far as I know, I am the only non-brony left alive. And that won't be for much longer.
This will be my last Thought-Journal as Jack Smith Johnson. As soon as this finishes, I'm sending it to the tablet I've hidden. This is the tablet you now hold in your hands, reader.
Our last hope goes with you.
----------------------------------
Prereading/editing by GaryOak.
Cover art by Mega-Demon-Piggy.
Chapters (1)