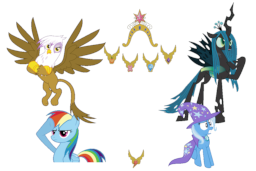 This story is a sequel to Changeling
---
Aura and Trixie have been living in Ponyville for a few months now, with the ocassional travelling across Equestria to perform Trixie's shows, and life has been pretty peaceful for them.
In the Changeling Kingdom, however, tensions continue to rise as the hunt for RE brings the loyalty of all changeling soldiers into question, and the griffon Emperor Nero takes advantage of this vulnerable time in Queen Chrysalis' reign to erradicate the enemy race once and for all.
With Aura called back to the Changeling Kingdom, Trixie goes along with her to protect the youngling who she has come to know as a good friend over the past few months.
On the other side, Rainbow Dash wants to do whatever she can to help her childhood friend turned soldier Gilda in her time of need. Even if it means fighting against somepony who may or may not be her friend.
Chapters (3)