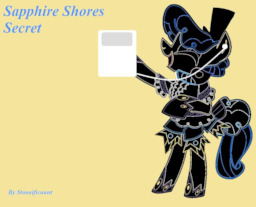 Source
Sapphire Shores is the pony of pop, the hipster of the century and a pretty swell Pony when you get to know her. However she has a secret. Only a few ponies know of this secret. But otherwise no one knows of this secret. For this secret that would put her career in shambles, would also name her as the biggest fraud in Equestria.


Got this idea one day while browsing the really really dead line of Sapphire shores fanfics. Basically Sapphire Shores has a magical Ipod that contains every single song minus Pony songs from our world. She then rewrites them and voila has a new song for the pony public.
I am not the owner of well mlp Note no actual song rewriting will be used and it is a crossover with all the songs from our world.
Chapters (1)