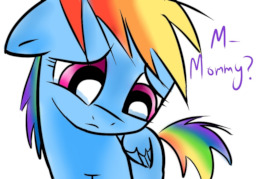 Source
YouTube Reading by untamedwaters.
It's not easy being a child living with the knowledge that your mommy is never going to get to watch you grow up. But this was a young Rainbow Dash's reality. Despite her mother's cancer, Dash's family had still been a very happy trio of ponies. But all fairytales must end.
Rainbow Dash's father has come to terms with the approaching departure of the mare whom he called his 'angel'. When the time had finally come for her to say goodbye, would Rainbow Dash be able to accept that her mother will die?
"Mommy's going back to Heaven." It was such a comforting thought to Dash, but she didn't want her mother to go.
(Side-story to What's Really the Most Important, to shed light on what happened to Rainbow's mother. This is technically a prequel, since it takes place a good... 18 years beforehand!
Cover Art originally by TheToughestFighter
Chapters (1)