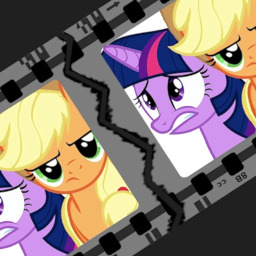 After a night of drinking far too much hard cider for their own good, Twilight Sparkle and Applejack awoke to find themselves with wedding bands on their horn and hoof (respectively), a legally-binding document on the bedside table, and a very embarrassing videocassette of a drunken Las Pegasus wedding ceremony. Now, Princess Celestia has summoned Twilight Sparkle and Applejack to her quarters, to have a little word with them about this situation...
This bit of silliness came from reading Darth Link 22's story, "About Last Night". After posting a couple of random comments about Celestia and Luna's possible reactions to the wedding video which were, apparently, funny enough to cause at least one person to nearly choke on their coffee when they read them, I felt inspired enough to expand on it. Two cans of Monster "Absolute Zero" later, this wacky little vignette somehow materialized out of my addled brain... Note that this is not canon as far as Darth's story is concerned! (Although he is certainly welcome to steal any bits he likes from it if he wants to.) Just think of it as a "deleted scene" on the DVD.



This would take place sometime after chapter six, A Most Forgettable Evening, so ideally you should have read at least that far into it before reading this. (And really, you should be reading it anyway, 'cause it's freakin' hilarious.

) If you just need a quick refresher, chapter two, Feel The Love, is where the wedding video is described.
Chapters (1)