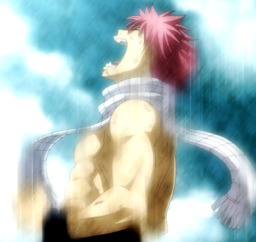 History said that one thousand years ago, the younger sister of two sibling princesses grew jealous of her sister's day when ponies shunned her night and that she was banished to the moon for a thousand years through the power of the Elements of Harmony. However, only half of the truth has been recorded into books and ponies' minds. There was one other who aided the princess in sealing away Nightmare Moon, who without his help and his ancient magical power, would've meant eternal darkness in Equestria.
Warning: There will be some swearing used in later chapters. Also, as I been pulled up a couple of times, the beginning chapters are sub-par. I'll go back to the chapters at a later date to fix them. But, or now, I ask you to continue reading if the first chapters are what's putting you off.
This is a fan-based story, Fairy Tail, MLP and any references all belong to their respective owners. I own nothing.
Featured: 6/09/2014 Best birthday present ever! Thank you all so much guys!
Featured: 30/11/2014 Wow. Seriously, wow. Not even five minutes after submitting it and you guys got it into the featured box again. Thank you all, seriously, it means a lot to me.
Featured: 8/09/2015 Again. Seriously, this is amazing. Thanks everyone or making into the feature box again.
Chapters (10)