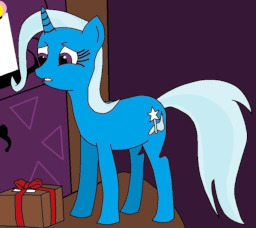 Upon her being shown up by Twilight with that Ursa Minor and the Alicorn Amulet, The Great and Powerful Trixie has fallen into a depression that seems to be only worsening. Her confidence has been shaken, her wagon has been vandalized, and she has nopony to go to for help. Who can the Greatest and Most Powerful go to for help?
Coming back to the town she once ruled, she knows how she will end it all.
The final chapter is very violent and the reason that this is rated 'Teen' for 'Gore'.
Thanks to the following for finding errors:
Astral Moon
Chapters (6)