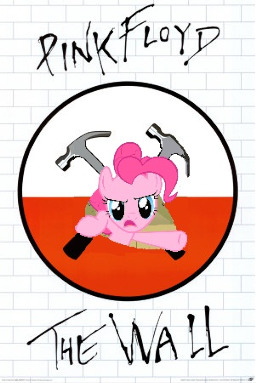 Pink Floyd - The Wall with ponies ! My first fic. For those who haven't watched The Wall, do it right now, no really its on youtube. You don't really need to watch it to understand this fic, since i will have my on take on the story.
Summary: Pinkie pie runs away from home once her father dies in the war. She meets the rest of the mane 6 in a school that treats students poorly. She does some illegal substances, and gets intimate with Rainbow Dash. She becomes a leader of a Neo-Nazi revolution against nightmare Moon. And all hell breaks lose once she becomes insane.
Rainbow Dash x Pinkie Pie.
Rainbow Dash x Applejack. (I am not into shipping, but it is a parody)
Keep it in mind it is a parody so some characters might not act in-character.
I will upload daily, I am coming up with the story as I write it, so I re-edit each chapter about 3 times before uploading. I will probably finish it this week, each chapter will be about 1000-2000 words, although one might need to be longer. Even if no one reads it I am exited to write it, so i will give it my best. Keep it in mind I don't have much to work with, since The Wall isn't very coherent when it comes to storytelling ( many flashbacks and such).
Chapters (8)