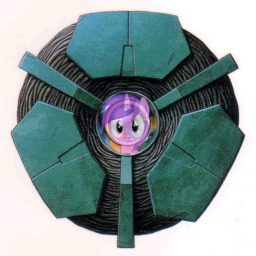 Amethyst "Sparkler" Star was perfectly content in being an average pony in a not-so-average family. That all changed the day she encountered a mysterious metal disc which fell from the sky. Now, in order to protect her family, her friends, and all of Equestria from a resurgent menace, Amethyst must embrace a new destiny. She must cease to be normal, and instead metamorphose into something . . . "beyond the norm."
Presenting the first attempted fanfiction fusion of My Little Pony: Friendship is Magic and the long-running anime/manga series Bio-Booster Armor Guyver, with a little Doctor Who wibbly-wobbling in and out for good measure. So Stand-By, Get Set, and ALLONS~Y!!.
Proofreading and editing generously provided by Nonagon, CrowMagnon and Zeta040. Please Read & Review - comments and critiques are greatly appreciated!
11/3/2013 - Now 100% Approved by Twilight's Library!!!
11/17/2013 - Winner of ~The Decent Writers Club~ Crossover Contest!!
2/7/2016 - Cited by Equestria Daily in their Pony Spotlight #5 - Amethyst Star!!! (i.e. "Senpai noticed me!")
10/11/2016 - Called (Enjoyable) in a review by The Pleasant Commentator and Review Group!
Chapters (7)