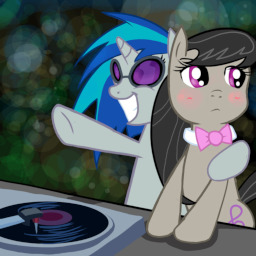 Source
Music...it's what drives her, what gives her life. Vinyl Scratch lives for the next thrum of the bass, the next stomp of dancing hooves...but lately, she finds she wants more. What more could there be than living your dream? As she ponders this, she may find that she needs a guide to walk with her through the maze of life...someone who cares about who she is, instead of what she can do.
Rated T for strong, crude language, sexual situations, and use of alcohol.
Cover art provided by Doggie999, used with permission.
Dedicated to Mia B.
Chapters (3)