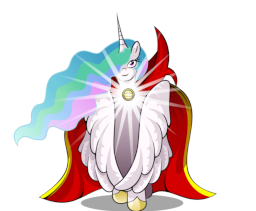 Source
Rated Teen: Violence, Blood, Brief Language
The world has been ravaged by darkness and chaos. Monsters and demons run amok in the world, destroying everything that every pony holds dear. Unspeakable horrors and malevolent forces gather to shift the balance between order and chaos. Yet there is hope...
Join Princess Celestia as she embarks on a journey to the Lhorse mountains, where she hopes to find enlightenment and atonement. But before her spiritual journey can begin, she must first let go of her painful past and awaken the powerful magic sleeping within her. Empowered as the Sorceress Supreme, Celestia will test her limits against the most terrifying creatures the world has ever known.
Dr. Strange and all respective characters are owned by Marvel.
Princess Celestia and all respective characters are owned by Hasbro.
Big huge thank you goes to Bronyman1995, Flutterguy89, and Aquamarine-Rubie for the use of their OCs.
And to Avenging-Hobbits, Looney Lunar Avenger and The Invincible Iron Brony for being proofreaders on this project. I would appreciate it if you would take a look at their stories and read the work they've done.
Hoofcuffs - Bronyman1995
Redeye - Flutterguy89
Auriaco and Vibrant Note - Aquamarine-Rubie
Chapters (17)