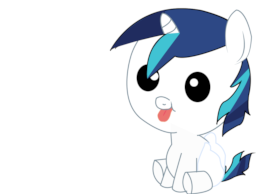 Source
Eleven months after their wedding, Princess Cadence and Prince-Consort Shining Armor are visiting the new Princess Twilight Sparkle when an unexpected visitor arrives with a surprise gift for the newlyweds.
The little bundle of joy is taken a little differently than Chrysalis or Shining Armor expects.
Having had enough of the "Chrysalis brings home a little bundle of joy for Shining Armor" fics for now, I thought it was high time to deliver a cream pie to the face of this genre. Enjoy.
Contents are to be used for comedy only. No deeper meaning at all. Really. Stop looking. Short one chapter story, which will not get a sequel. Author was heavily influenced by CSIMadMax on Deviant Art. Go read her Cadence/Shining Armor/Chrysalis cartoons. Right after reading this, of course.
Also check out these fics on the same topic:
My Daughter the Teenage Changeling Darn it, he deleted his story. And it was good, too.
It's a Pony by Dr. Atlas.
And All That Implies by VashTheStampede
My Fluttering Heart by Titanium Dragon
A Changeling Effect by Username_Unknown
Editing assistance by Bad Horse and others.
Credit for cover art goes to ConvoyKaiser
Chapters (1)