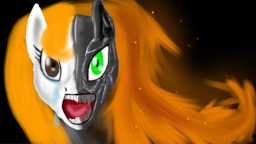 This story is different than you might think it is. Contains some sci-fi crap.
Also, it's pretty short. Mainly just a bursty action story left wide open so it can be added to in a sequel.
After her dad's murder, Skyfire realizes who she actually is...and how much devastation it can cause.
Panic ensues as the mystery explosion in the forest is still not figured out by the public.
Skyfire sets out on a journey to find out who killed her father, and to avenge his death by any means possible.
Sequel expected to appear soon
Chapters (8)