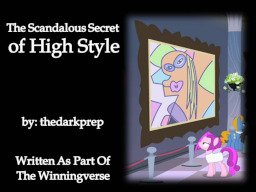 High Style, Photo Finish's aide and famous stylist, was trying to have a normal day, but few things are normal when Cloud Kicker arrives.
This story is written as part of the Winningverse (which is why I don't go in depth into exploring Cloud Kicker's character). If you don't know why Cloud Kicker is the way she is, then go read the Life and Times of a Winning Pony. It is by far a better story than this one.
However, I'd appreciate it if you came back once you were done.
Chapters (2)