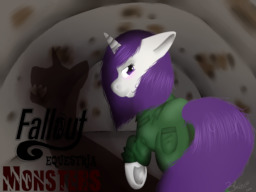 My second place entry for the Fallout: Equestria 500 members writing competition, choosing the theme "Before the bombs".
This isn't a tale of great heroism, of any great battle fought hard and won well. Deadbolt Tumbler never really had any driving force in his life, he didn't have a special somepony, he didn't even have any friends. He was content to do his job to the best of his abilities everyday and live out his life in peace as he always had, but the great war was now in full swing, and as it often does, fate decides to intervene. On the afternoon of his 18th birthday, he was drafted to fight for his country, throwing him into a world of new experiences that threaten to shatter his fragile perception of friends, love, and loss. Although he had written them off as nothing more than fables as a colt, he soon comes to see that the monsters from the tales of old, still roam the battlefields before him.
The wonderful youtuber Plagen Shiki has done a marvelous reading of this story! You can find it here if you'd like to listen as you read!
Chapters (2)