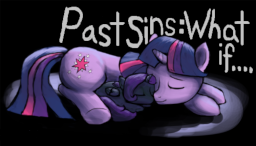 At chapter 10 of Past Sins, Princess Celestia brought Nyx to Canterlot almost by force(?) and Nyx became Nightmare Moon. What if Twilight went to Canterlot with Nyx? Will it change? Well, find that out on 'Past sins: What If......'
My first my little pony fanfic. Corrections welcomed but no rude comments.
Recommend to read Past Sins until chapter 10 before Celestia's visit if you didn't.
Special thanks to Pen stroke for the permission to write this.
Yup, my story is 'On Hiatus' again... I'm sorry. Read my blog post if you want to know the reason.
Chapters (2)