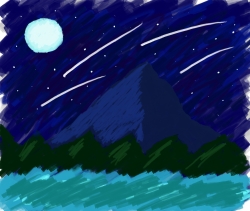 Oh night of Storms what hast thou brought?
An outsider so different yet so alike.
Oh lord of Change what hast thou caught?
A Paragon of Storms by thunder's strike.
A Golden Empire Shining Bright.
The ruler benevolent and kind.
A Republic for those who love the Night.
The leader with a presence of mind.
Oh night of Storms what shall we do?
Don't give in to hate, don't give in to fear.
Oh lord of Change would you give us a clue?
A Paragon of Storms is growing near.
Is this a tale about one who fell?
When it comes only time will tell.
(Sonnet of the storm, written by unknown year 264 Celestial rule)
I believed that I knew how the universe worked. That my purpose in life was to enjoy it to the fullest and not look back. Not a bad life if you ask me although it seems the universe had other plans. On one night all that I knew took a drastic turn. Not only did I find myself in completely different world separated from my quiet life I found myself in that world. Armed with my foolish pride, my hidden self, alien knowledge and the art of deception I took my first steps on a journey with no end in sight...
Chapters (19)