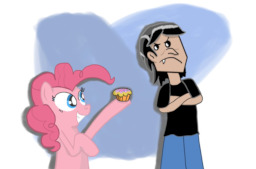 Now part of the extended Millerverse!
Part One in the Dawnbreaker Trilogy! Check out Part Two here!
It's got clichés! It's got action! It's got foul language and cheap humor!
Ryan Miller, after heaving himself into an all-too-clichéd partially unexplained Vortex-o-Doom that opened up after his twin cousins and a Doctor with a time machine nearly ended the world, finds himself in a place that very well may kill him.
A place so full of kindness and friendship that it could make him vomit just thinking about it.
Ryan Miller is not a nice person.
However, everything is not what it seems in Equestria, as a looming threat steadily grows on the horizon. Uncovering a vast political conspiracy and the dark underbelly of what at first seems to be a carefree paradise, the very borders of the universe are at stake and all of reality may come unraveled!
And our (almost) hero could not possibly give a shit less.
Will the only human in Ponyville save the day?
Or will he even make it home alive?
FIND OUT IN THIS NOT VERY EPIC STORY BEFORE THE NOT VERY EPIC CONCLUSION!

Credit for the awesome story cover goes directly to Ikemtz16, who worked tirelessly to pour his awesomesauce onto paper and give it life.
Chapters (40)