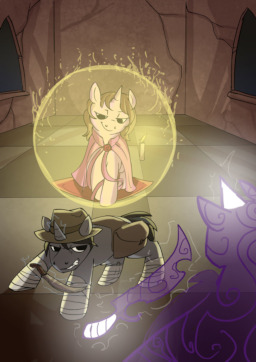 Source
Discord's escape had threatened the fragile peace of Equestria, but that vile manipulator was back in his prison now. Everything could return to normal. Life went on as if nothing had happened.
And yet, unwittingly, his release had triggered an old seed the draconequus had planted prior to his first capture, some thousand years in the past.
An explorer from Ponyville will uncover Discord's last ditch plan and set in motion a series of events that will change the very face of Equestria and its inhabitants.
Why would he do such a thing, you ask?
It's simple: He's a nosy bugger.
Curiosity killed the cat, as the saying goes.
Chapters (1)