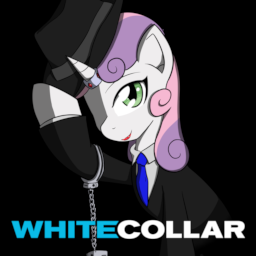 Source
After a lifetime of crime, infamous con mare, forger and thief Sweetie Belle was finally caught and brought to justice. As her prison sentence was reaching its conclusion however, she is offered a very unique opportunity; the chance to use her unique skills and knowledge to join the guard as a private consultant. Now, she's found herself working alongside Special Agent Graphite, the stallion who arrested her all those years ago, in an attempt to help solve white collar crimes.
But can the two really work together without killing each other? Or will the two parties own intentions destroy any chance this partnership could possibly have to succeed?
An episodic story based on the popular TV show, White Collar. Each chapter will be it's own unique story with its own crime to be solved while tying into a much larger plot.
Cover art created by JakeHeritagu
Chapters (2)