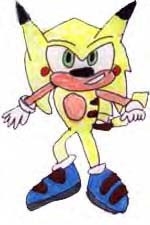 Christian Weston Chandler, literally the worst human to ever exist, uses the might of his autism to pierce the veil between realities. Now he and his son, Sonichu, the electric-hedgehog-type pokemon, find themselves in Equestria facing an enemy the likes of which has never been seen.
Can these legendary heroes save our beloved ponies? Read and find out you digital dumbey!
A crossover with autism.
Like for Jesus. Favorite for ponies. Dislike/Ignore if you want FIM to be canceled.
If you don't know who/what Christian Weston Chandler and Sonichu are, I envy you, though such knowledge is not required to enjoy this scrumptious story.
Featured 2/4/15
Thanks for helping me reach this story's goal of 100 likes.
Chapters (9)