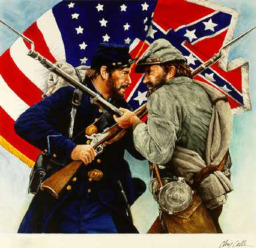 Warning: Contains some racist terms, language, and several mentions of slavery.
Disclaimer: We are truly sorry if we offended anyone who is reading this and we mean no offense to anyone who is African American, chinese, british or any other race mentioned in the story. This entire story will not have constant racist terms if that is what you are thinking.

During the war, many people are unaccounted for. Most killed in action, some ran off to change their name, and maybe even some simply got lost. Here is the story of two soldiers from each side that went missing.
Gore may come in later chapters.
Chapters (1)