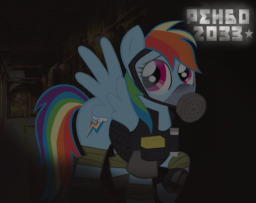 Source
The year is 2033. This is Equestria. A land of death and poison - a glorious nation reduced to rubble. 40,000 ponies have hidden themselves in the Manehatten Metro for the past twenty years, the largest air-raid shelter ever built. Friendship is as destroyed as the surface; the toxicity of nuclear warfare has affected more than just the environment.
And now, with the Metro on the brink of inter-tunnel war as ponies are divided by belief, greed and desperation, a young mare must leave her home station to alert the rest of the tunnels of a new common enemy, one that threatens to destroy even the victors of the unavoidable civil war.
Fear the future. For the future is never clear.
Chapters (6)