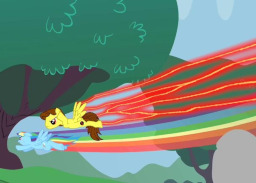 When Eobard Thawne, a.k.a. Reverse Flash, is seemingly destroyed by Black Flash, he ends up in Equestria instead. He is told that Rainbow Dash is the fastest pony alive, and teams up with Chrysalis to defeat her and become the fastest pony alive.
A crossover with The Flash/Legends of Tomorrow.
I used Pony Creator to ponyize Reverse Flash. I gave him a similar mane to his hairstyle, but the tail of Rainbow Dash.
Chapters (3)