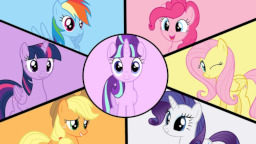 What happens when a group of ponies tried to take over the town and another group comes to stop them?
Well...a war breaks out. Duh.
But not just any war. A Nerf war. And utter mayhem ensues.
Also included as weapons: pillows, plastic and foam swords, and completely harmless knockout spells. Well...maybe harmless.
I hope.
Chapters (1)