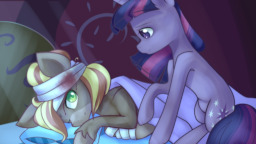 Source
A nameless stallion was found injured just outside the Golden Oak Library. Twilight Sparkle stumbled across the stallion and took him inside to heal.
Many days passed as the stallion was laid to rest in the purple unicorns bed, after a bout of amnesia he tries to remember who he is... His memory slowly but surely returns to him during his stay at the Library.
But little do each of them know, they are falling for each other day by day, neither of them realise it, but their friends begin to notice.
Chapters (1)