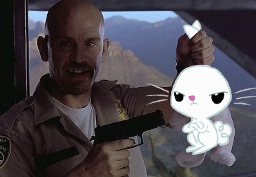 Source
Cyrus "The Virus" Grissom is a ruthless, certified insane psychopathic criminal mastermind. In his most ambitious escape attempt yet, he hijacked a prison plane with the aid of several like-minded convicts. What happens when Cyrus winds up in Equestria in a certain pegasus' cottage?
A crossover with the 1997 action film Con Air, so potential spoilers if you haven't seen the movie.
Cover art is my cheap attempt at Photoshop.
Chapters (1)